February 3rd, 2010
Terve everybody !
This is the beginning of the recording work for WLB.
Mike, Alex and I arrived to our tranquil studio in Hollola today.
Jetro is again our recording engineer and he is helping us here with preparing the stuff for tomorrow.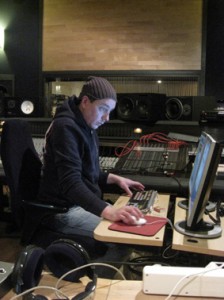 While we are waiting for the instruments to be delivered and built up, we checked the first songs for the drums recordings. We will start with Mike parts tomorrow.
We decided that the session would start with the first song that was composed for the new album: "The Crying Moon".
It feels great to finally be here and face the fact that my songs are becoming alive. My friends, I have been waiting for this moment a LONG time.
The weather was beautiful today; plenty of sunlight and scenery with snow covered trees and fields. The news was that there hasn't been this much snow in the last 30 years, at least in the capital, Helsinki. It's a lot I can tell.
I'll keep you updated.
And here some words from Mr Mike Terrana:
Yesterday evening I flew into Helsinki it was cold and dark, but Tarja, Marcelo & Toni were there to greet me, naturally was I very happy to see them….until they told me that I must go in the sauna and then jump immediately the icy cold waters of a nearby lake frozen lake….hehe….I'm not too sure that I can handle this….hehe
They say it will make me stronger……hmmm….I need to think about this

Wednesday morning we arrived at "Petrax Studios" around 2:00pm, which is located in a remote part in the south of Finland. Lots of snow here, but its very white and beautiful. It's cold outside, but the studio and apartments are warm and cozy, there is lots of good food and the people that work here are very kind.
My drums did not arrive today as planned, despite the fact that they were shipped from Germany last week. Apparently bad weather conditions had made some trouble for the shipping company, so we hope tomorrow the drums will arrive. Then I can spring into action build my kit, get some good sounds and record a few tracks before the day is over.
I think it's going to be a great record and I'm looking forward to playing on Tarja's new music. So stay tuned for more details.
Cheers
Uncle Mike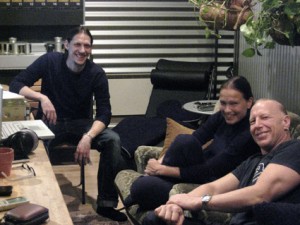 With love, Tarja