February 5th, 2010
Alex and Mike were sleeping long this morning and while they were having their beauty sleep, I was working with Jetro in choosing the best keyboard tracks for some songs.
It was not too shiny weather today, nor that cold, but since we are completely surrounded by snow, we still had quite a lot of light, which definitely helps.
I like to work in this studio where you can see natural light, because lack of light makes us very sleepy.
Good news. The drums arrived today and Mike was very happy, as the rest of us.
I had some time to think about the artwork for the album as well. Everything seems to be in place, so there are going to be excited times ahead. We will be doing the photo sessions for the album cover and booklet in few days.
The drum recordings started with success. Mike did a GREAT job with the first song. Wow, it comes alive and the groove is already lot better than in our demo.

It's incredible, I am happy. Alex was playing in the same room with Mike while he was recording and I was singing in the control room. It is easier for Mike to follow us and to get the whole picture and feeling of the song when the guitarist is playing and the singer singing at the same time. It took Mike just few takes when the song was completely laid down and the result is fantastic.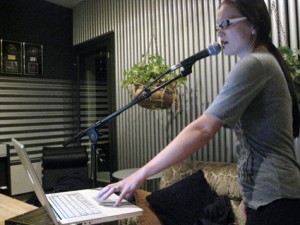 Soon we will all go to sauna to relax. I was the one preparing it ready tonight, I also put some wood to the fireplace, so that everybody can enjoy himself after a long day.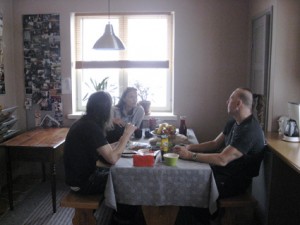 With love, Tarja