February 7th, 2010
Last night we were late up, so it was a bit tough to get back to work early in the morning. The red wine did it's "thing" you know…

Max came to the studio to work with us some songs and it was nice to have him around.
It's always great when somebody else comes in and helps us to refresh ourselves. That way we don't get bored.
It was so funny when I met him in the morning. After I gave him a hug, I told him "oh my God, Max you are even taller with the shoes on". But he was NOT wearing any shoes! In a minute I realized that he was like "WHAT? Maybe I can come down from the mattress."

Well, Max knows me well already… I haven't just seen him in a long time…
We are working very hard to get the songs in a shape where everybody feels good and comfortable. Mike did again amazing job today. He recorded few more songs and we are well in schedule.
Among those songs was "In For A Kill" that I have performed last year a couple of times with an orchestra. Now it turned to be really cool with the drums and the reference guitars from Alex. Is already very promising.
It was a surprise for everybody in the studio the cover song recorded today. We managed to refresh a great song from the 80's. Is a bit sad that songs like this one nobody writes any more.
According to Mike; he played today the longest drum fill he had recorded in nearly 100 albums!!
We had fun with his performances and sometimes it felt that he did more than what he expected himself to do! So it made him very happy.
It was a tough day for all of us, but very rewarding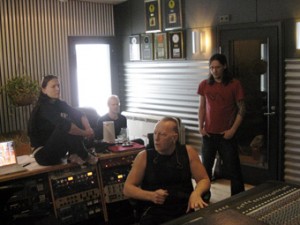 With love, Tarja